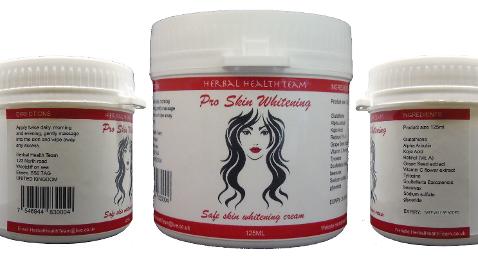 Product Description
A revolutionary Skin Whitening cream packed with loads of Anti-oxidants, Vitamins, Anti-ageing and Pimple Blocker. This formula will not only lighten your overall complexion but will also lighten and diminish old scars, acne scars, age spots, dark underarms, Inguinal areas, stretchmarks and even freckles and birthmarks. This skin Whitening cream with the addition of plant-derived (Alpha- Arbutin and Japanese Rice Sake derived Kojic Acid), contains non-irritating ingredients. It contains proprietary blends of multiple peptides and skin brightener ingredient such as Glutathione, a powerful Anti-oxidant and anti-ageing supplement with added Vitamin C.
Usage
removes scars permanently, lightens minor or even major burns, lightens inner thighs, underarms, buttocks and groin area (avoid applying on moist areas). Turns nipples pink. Lightens and removes age spots, melasma, liver spots and freckles.
Ingredients
Glutathione
Alpha Arbutin
Kojic Acid
Retinol (Vit. A)
Grape Seed

extract
Vitamin C flower extract
Tyrosine
Scultellaria Baicalensis
beeswax
Sodium sulfate
glyceride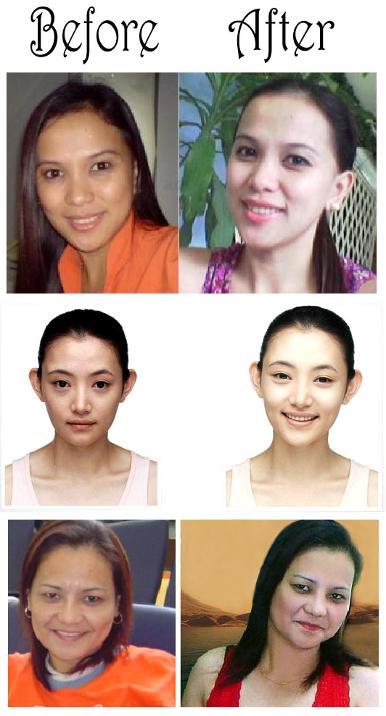 For countless generations mans ancestors from around the world have acquired invaluable knowledge and experience of mother nature's most powerful natural means for achieving positive effects on the human body. Our formulas are the result of this wisdom, refined and perfected by modern science and production methods. The finest and most powerful ingredients are brought together for you perfectly and in the most effective but safe form, potency and dosage.

Afghanistan, Albania, Algeria, Andorra, Angola, Antigua and Barbuda, Argentina, Armenia, Aruba, Australia, Austria, Azerbaijan ٭ Bahamas The, Bahrain, Bangladesh, Barbados, Belarus, Belgium, Belize, Benin, Bhutan, Bolivia, Bosnia and Herzegovina, Botswana, Brazil, Brunei , Bulgaria, Burkina Faso, Burma, Burundi ٭ Cambodia, Cameroon, Canada, Cape Verde, Central African Republic, Chad, Chile, China, Colombia, Comoros, Congo, Democratic Republic of the, Congo, Republic of the Costa Rica, Cote d'Ivoire, Croatia, Cuba, Curacao, Cyprus, Czech Republic ٭ Denmark, Djibouti, Dominica, Dominican Republic ٭ East Timor (see Timor-Leste), Ecuador, Egypt, El Salvador, Equatorial Guinea Eritrea, Estonia, Ethiopia ٭ Fiji Finland, France ٭ Gabon, Gambia, The, Georgia, Germany, Ghana, Greece, Grenada, Guatemala, Guinea, Guinea-Bissau, Guyana ٭ Haiti, Holy See, Honduras, Hong Kong, Hungary ٭ Iceland, India, Indonesia, Iran, Iraq, Ireland, Israel, Italy ٭ Jamaica, Japan, Jordan ٭ Kazakhstan, Kenya, Kiribati, Korea, North Korea, South, Kosovo, Kuwait, Kyrgyzstan ٭ Laos, Latvia, Lebanon, Lesotho, Liberia, Libya, Liechtenstein, Lithuania, Luxembourg ٭ Macau, Macedonia, Madagascar, Malawi, Malaysia, Maldives, Mali, Malta, Marshall Islands, Mauritania, Mauritius, Mexico, Micronesia, Moldova, Monaco, Mongolia, Montenegro, Morocco, Mozambique ٭ Namibia, Nauru, Nepal, Netherlands, Netherlands Antilles, New Zealand, Nicaragua, Niger, Nigeria, North Korea, Norway ٭ Oman ٭ Pakistan, Palau, Palestinian Territories, Panama, Papua New Guinea, Paraguay, Peru, Philippines, Poland, Portugal ٭ Qatar ٭ Romania, Russia, Rwanda ٭ Saint Kitts and Nevis, Saint Lucia, Saint Vincent and the Grenadines, Samoa , San Marino, Sao Tome and Principe, Saudi Arabia, Senegal, Serbia, Seychelles, Sierra Leone, Singapore, Sint Maarten, Slovakia, Slovenia, Solomon Islands, Somalia, South Africa, South Korea, South Sudan, Spain , Sri Lanka, Sudan, Suriname Swaziland , Sweden, Switzerland, Syria ٭ Taiwan, Tajikistan, Tanzania, Thailand , Timor-Leste, Togo, Tonga, Trinidad and Tobago, Tunisia, Turkey, Turkmenistan, Tuvalu ٭ Uganda, Ukraine, United Arab Emirates, United Kingdom, Uruguay, Uzbekistan ٭ Vanuatu, Venezuela, Vietnam ٭ Yemen ٭ Zambia, Zimbabwe
More Products Below by Herbal Health Team -
Click on any picture to view.