FREE TRACKED POSTAGE WORLDWIDE
Hair Loss Pro Plus stimulates hair growth directly at the roots. It also strengthens weakened hair roots and prevents hereditary hair loss. Hair Loss Pro Plus provides the hair roots with active caffeine and ensures vigorous, healthy hair growth. This creates better hair grip for thin, weak hair.
Hair Loss Pro Plus: Caffeine promotes hair growth and has even been proven to slow down hereditary hair loss. Now you can transport this unique active ingredient to the hair roots during daily hair washing.
Alpecin Caffeine penetrates even though the shampoo is rinsed out. In just a short time (120 seconds), the active ingredient travels along the hair shaft directly into the hair follicles. If the shampoo is left on for longer, the caffeine will also penetrate into the scalp.
Once a day, it will take just a small effort to ensure that the caffeine-based ingredient combination protects you from hair loss. Now you can bring this unique active ingredient to your hair roots during normal hair washing with Hair Loss Pro Plus
There are also other reasons for men to really like this shampoo. Based on the intentional omission of softeners (e.g. silicone), the hair structure improves after just a few hair washes with enhanced hair grip. Fine and weakened hair becomes stronger and can be styled better.
How does Hair Loss Pro Plus Shampoo work?
Washing hair with Hair Loss Pro Plus Shampoo adds active caffeine to the hair follicle. When left on for 2 minutes, caffeine penetrates the hair follicle, thereby strengthening weakened hair roots and preventing hereditary hair loss. Studies prove that caffeine penetrates the hair roots, thereby protecting the hair from negative testosterone impacts and from premature hair loss.
How do I stop hair loss?
First of all: hereditary hair loss is a genetic predisposition, not a disease. As such, it cannot be permanently cured but must be continuously treated. This is where Alpecin has proved valuable. The caffeine contained in Alpecin prevents the hair roots from following their hereditary propensity for increased hair loss and ensuing baldness. Alpecin prevents hair loss without any undesirable side effects. When applied, it causes a fresh tingling on the scalp, its active ingredients travel along the hair sheath and form a depot sufficient for up to 24 hours.
Can I enhance the effect of Hair Loss Pro Plus, if I leave the shampoo on for longer than 2 minutes?
Leaving the product on for a longer period of time also boosts caffeine absorption in the scalp. A study by the Charit university clinic in Berlin has shown that absorption of the active ingredient increases for a period of up to 30 minutes that the product is left on the scalp. After that, penetration via the skin surrounding the follicles has increased to such an extent that additional caffeine availability is ensured for up to about eight hours. If you leave the product on the scalp for longer than 2 minutes, you should check your scalp type and scalp condition. Depending on your scalp's sensitivity, leaving the product on excessively long can result in temporary redness.
Do I really have to wash my hair every day?
The caffeine remains detectable in the hair for up to 24 hours. As a result, regular application of caffeine shampoo activates the hair roots in a sustainable manner, thereby creating the prerequisite for vigorous and healthy hair growth. Alternatively, you should massage Hair Loss Pro Plus Liquid into the scalp on the days you do not wash your hair to provide your hair roots with sufficient growth energy.
How to use Hair Loss Pro Plus :
Distribute shampoo evenly into your hands

Massage into your wet hair

Rinse thoroughly

Repeat if necessary
Recommendation: massage into the scalp and leave for 2 minutes – from application to rinse.
Hair Loss Pro Plus contains:
Aqua, Sodium Laureth Sulfate, Laureth-2, Disodium Laureth Sulfosuccinate, Sodium Lauroyl Glutamate, Sodium Chloride, Caffeine, Panthenol, Parfum, PEG-120 Methyl Glucose Dioleate, Hydrolyzed Wheat Protein, Citric Acid, Sodium Citrate, Menthol, PEG-40 Hydrogenated Castor Oil, Potassium Sorbate, Polyquaternium-7, Disodium EDTA, Sodium Benzoate, Zinc PCA, Niacinamide, Limonene, Tocopherol, Phenoxyethanol, Methylparaben, Propylparaben, Butylparaben, Ethylparaben, CI42090, CI 60730.
Caffeine activates the hair roots, prolongs the growth phase and improves hair growth.

Zinc and niacin are important growth factors for healthy hair roots
BELOW BEFORE & AFTER PICTURES WHILST USING HAIR LOSS PRO PLUS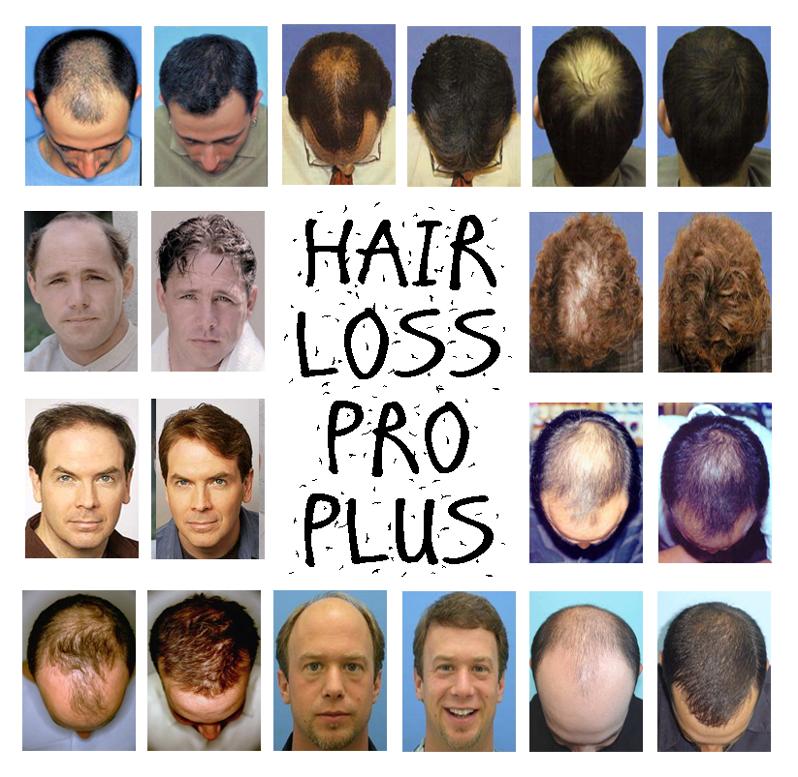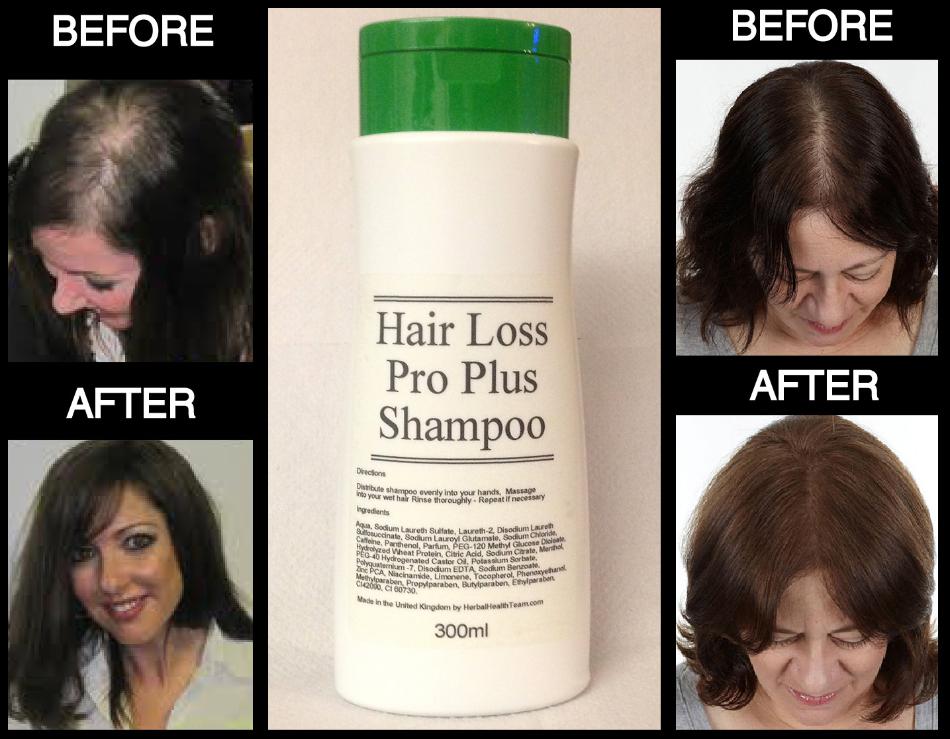 SOME POSITIVE FEEDBACK BELOW
"Very strong shampoo, its great! I've been using this product for 3 weeks, it slows down hair loss, and my hair is a lot healthier".
"I'm actually using this to encourage my hair to grow faster, rather than a treatment for hair loss, and it seems to be working!".
"This shampoo made my husband's hair a lot thicker, and now this is the only shampoo he will use".
"Instantly made my hair feel better. I tried this and noticed that I have had fewer hairs falling out, thicker hair and quicker growth. I'm near the end of my second bottle and about to purchase some more and I strongly recommend this to everyone with thinning or balding hair".
"Its the best shampoo against hair loss I have ever used. Its great and made my hair look fuller even after first use. Its also stop future hair loss (works great for me) and I believe it does also re-grow my weak hairs. I will continue to use this product, thank you so much".
"I started using Hair Loss Pro Plus two weeks ago. I noticed the effects in the first few days of used it, less hair falling out and my hair feels stronger".
"I have been using your hair Loss shampoo for at least 2 years now and the first person to notice the healthiness of my hair was my barber. I even recommended it to him and now he is using it in his shop. From the first wash you will feel it working. It does not stop hair going grey but will slow the process of hair loss".
"Hair Loss Pro Plus is an excellent product. There is a noticeable difference in the thickness of my hair although the results are better if the shampoo is massaged in and left for 5 minutes rather than the 2 suggested".
"Well I don't know what it is but every time I use your shampoo my hair feels and looks much thicker! It is really noticeable and leaves my scalp feeling fresh and clean. I use it nearly every day. Recommended".
"Hi, I was suffering from hair loss for a long time. I didn't get any solution to solve this problem. I used many types of shampoos, but I didn't get any results. then I see your shampoo on the internet. I bought the shampoo and started using it. I have got results in 3 days. I saw my hair is looking healthy. before using this shampoo I never kept my hair long which was my dream but after using this shampoo I can keep my hair long now, I am using this shampoo with a great confidence and whenever I get a chance I tell everybody to use it, thanks".
"My dad started loosing his hair in his late twenties, I am now 32 and taking preventative measures toward minimising my hairloss. I use Hair loss pro plus frequently and as of now have had no indications of my hair falling out so fingers crossed!".
"I have tried numerous shampoos but none of them were effective. But Hair Loss Pro Plus shampoo is different and definitely good, I will be recommending this shampoo to all my friends and family".
WE SEND WORLDWIDE TO ALL THE COUNTRIES LISTED BELOW
Afghanistan, Albania, Algeria, Andorra, Angola, Antigua and Barbuda, Argentina, Armenia, Aruba, Australia, Austria, Azerbaijan, Bahamas The, Bahrain, Bangladesh, Barbados, Belarus, Belgium, Belize, Benin, Bhutan, Bolivia, Bosnia and Herzegovina, Botswana, Brazil, Brunei, Bulgaria, Burkina Faso, Burma, Burundi, Cambodia, Cameroon, Canada, Cape Verde, Central African Republic, Chad, Chile, China, Colombia, Comoros, Congo, Democratic Republic of the, Congo, Republic of the Costa Rica, Cote d'Ivoire, Croatia, Cuba, Curacao, Cyprus, Czech Republic, Denmark, Djibouti, Dominica, Dominican Republic, East Timor (see Timor-Leste), Ecuador, Egypt, El Salvador, Equatorial Guinea Eritrea, Estonia, Ethiopia, Fiji Finland, France, Gabon, Gambia, The, Georgia, Germany, Ghana, Greece, Grenada, Guatemala, Guinea, Guinea-Bissau, Guyana, Haiti, Holy See, Honduras, Hong Kong, Hungary, Iceland, India, Indonesia, Iran, Iraq, Ireland, Israel, Italy, Jamaica, Japan, Jordan, Kazakhstan, Kenya, Kiribati, Korea, North Korea, South, Kosovo, Kuwait, Kyrgyzstan, Laos, Latvia, Lebanon, Lesotho, Liberia, Libya, Liechtenstein, Lithuania, Luxembourg, Macau, Macedonia, Madagascar, Malawi, Malaysia, Maldives, Mali, Malta, Marshall Islands, Mauritania, Mauritius, Mexico, Micronesia, Moldova, Monaco, Mongolia, Montenegro, Morocco, Mozambique, Namibia, Nauru, Nepal, Netherlands, Netherlands Antilles, New Zealand, Nicaragua, Niger, Nigeria, North Korea, Norway, Oman, Pakistan, Palau, Palestinian Territories, Panama, Papua New Guinea, Paraguay, Peru, Philippines, Poland, Portugal, Qatar, Romania, Russia, Rwanda, Saint Kitts and Nevis, Saint Lucia, Saint Vincent and the Grenadines, Samoa , San Marino, Sao Tome and Principe, Saudi Arabia, Senegal, Serbia, Seychelles, Sierra Leone, Singapore, Sint Maarten, Slovakia, Slovenia, Solomon Islands, Somalia, South Africa, South Korea, South Sudan, Spain , Sri Lanka, Sudan, Suriname Swaziland , Sweden, Switzerland, Syria, Taiwan, Tajikistan, Tanzania, Thailand, Timor-Leste, Togo, Tonga, Trinidad and Tobago, Tunisia, Turkey, Turkmenistan, Tuvalu, Uganda, Ukraine, United Arab Emirates, United Kingdom, Uruguay, Uzbekistan, Vanuatu, Venezuela, Vietnam, Yemen, Zambia, Zimbabwe.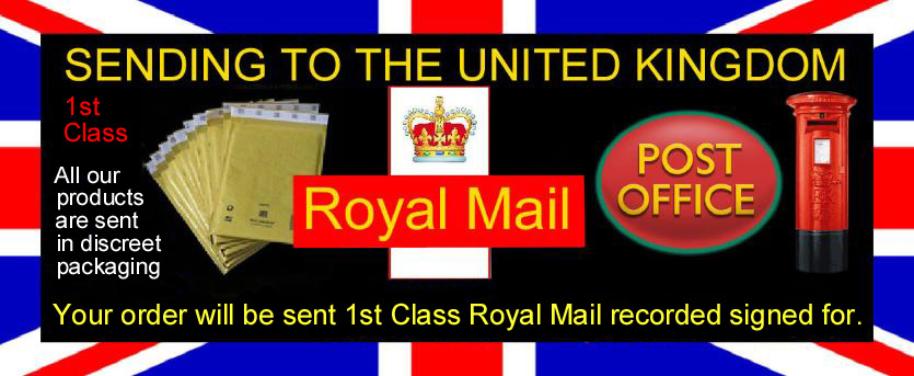 More products below that you might be interested in.
Copyright © 2007-2022 by Herbal Health Team, All rights reserved, This document may not be copied in part or full without express written permission from the publisher. All violations will be prosecuted to the fullest extent of the law.